How to set up PowerPack's Instagram Feed module with Beaver Builder?
How to set up PowerPack's Instagram Feed module with Beaver Builder?
Please note that Instagram has changed its policy in which it is mandatory for the user to be logged-in on Instagram in some regions to access the public profile and as a result, the feed won't work on the website.
PowerPack Beaver Addons Instagram Feed allows you to fetch the Instagram photos from your Instagram account and show it on your website/blog. You can set it up in a few simple steps but before we start let us learn a few things.
1. The following tutorial will work on an updated Instagram Module added in PowerPack v 2.7.7.4 and above only.
NOTE: Since Instagram has updated its API and has deprecated the old API we have updated our Instagram Module to a new method. This method has the following limitations as compared to the previously used API based method.
A maximum of only 12 images can be shown at a time.
Hashtag filter will not work
2. The Instagram profile should be a public profile.
Now that we have everything sorted let us start with the setup of the feed.
Step 1: Go to the existing feed or drag a new Instagram Module to the page.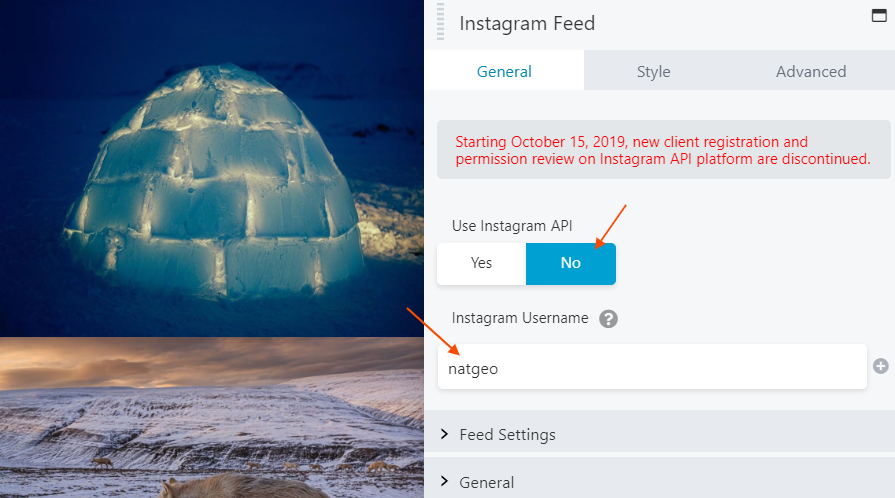 Step 2: Set Use Instagram API to No & then add the Instagram Username of the profile.
Step 3: After entering the username 12 recent images from the profile will be shown.
Step 4: Complete the remaining setup of the feed as needed.
Troubleshooting:
Sometimes, it may happen that even after following the above-mentioned steps, Instagram Feed doesn't work.
In that case, the issue might be due to some firewall settings of the internet connection, or maybe some browser extension that is blocking the Instagram Feed Module's request to display the images.
In such a case, please recheck the page with Instagram Module by opening the website on some other browser or by disabling browser extensions.
If the issue still persists, feel free to contact us.