Day 1: PowerPack Birthday Celebration Week – Free Business Template
Last updated June 13, 2017 · Puneet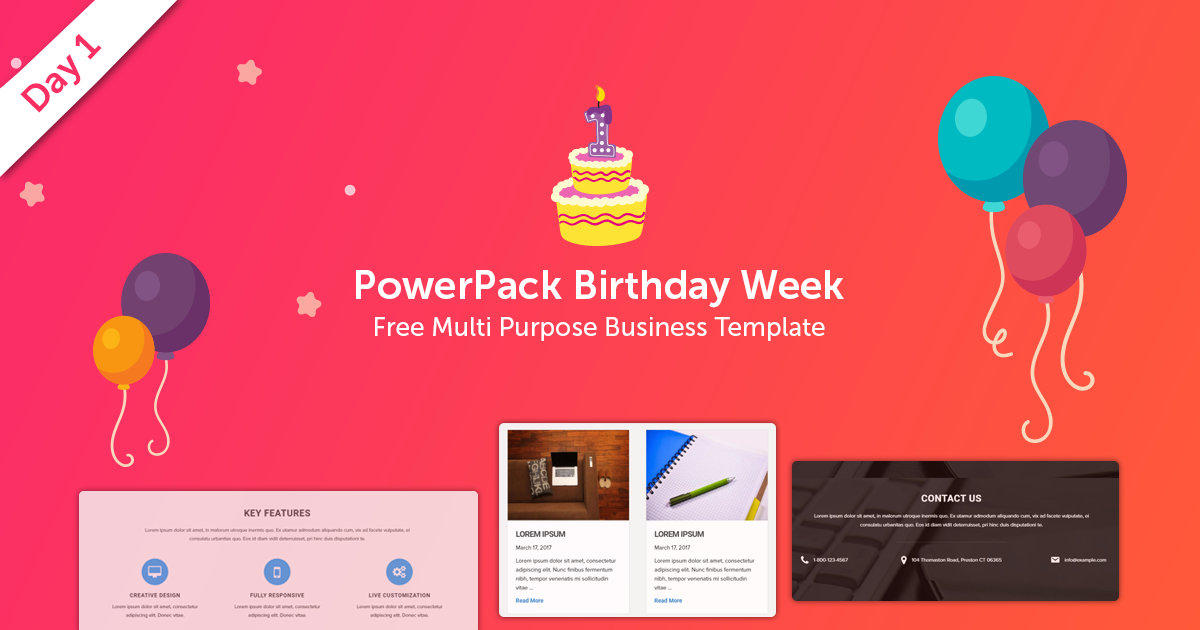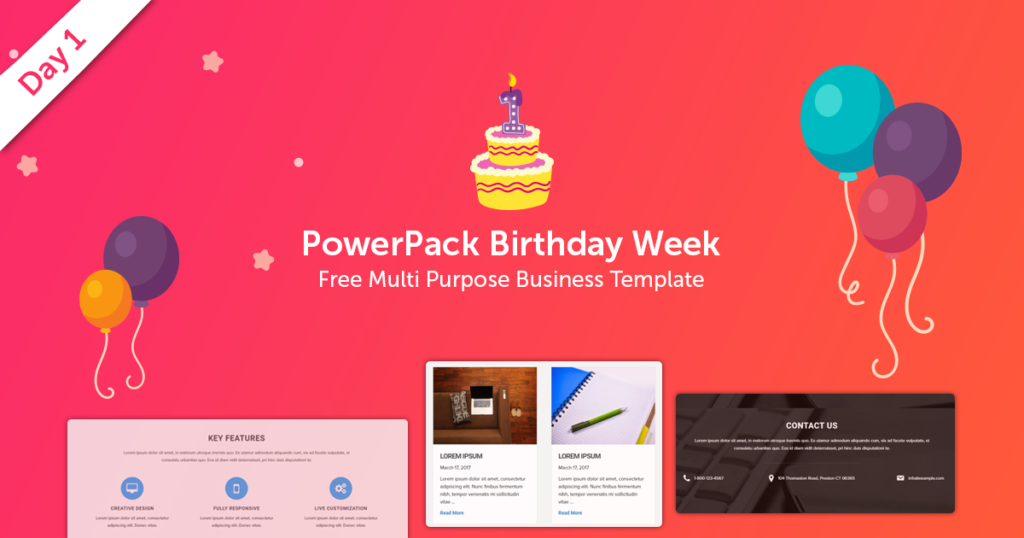 Yes, it's about time! PowerPack v1.0 was launched on June 15, 2016. No one knew how a crazy team can take it to the next level! We kept working hard, improving it and the result is we are now 1 year old! There's a lot more to say, but, I will save it for the Big Day – June 15th.
This week we are celebrating PowerPack's success with some freebies, new features, improvements and more!!
Today is the first day of the celebration and we have a Free Beaver Builder Template. It's a one-page layout with multiple sections and varied colors.
Multipurpose Beaver Builder Template
We designed this Beaver Builder Template with flexibility in mind. This one-page layout has various sections that you can put to use in different websites.
Here's a list of all the sections:
Hero Section
Features
Portfolio
About
Call to Action
Pricing
Clients
Testimonials
Team
Number Counter
Latest Posts
Email Optin
Contact Details
Location Map

Highly Flexible & Reusable Template
The best part about this new free template is that it's highly flexible and re-usable. All the sections have been well designed to mix and match. You can use this template to build a one-page agency website or a simple personal website.
How to Use The Template?
Click here to Download the template.
Unzip the downloaded file and then check the following links to import and use the template for your Beaver Builder website:
We would love to see this template put to use. If you build something with it, then please share the links in the comment section below or email us.
Want more Beaver Builder Page Templates?
Our PowerPack Beaver Builder addon is loaded with 40+ Custom modules,  Row Templates, and a cloud-based Template Library.
A few more interesting posts →
PowerPack Beaver Addons
Start creating beautiful websites with 65+ modules and 350+ templates for Beaver Builder.