Best Collection of Beaver Builder Modules
PowerPack Beaver Builder addon extends Beaver Builder with 65+ Stunning Modules.
Lightweight
Get extensive collection of Beaver Builder Modules & Templates in a lightweight package. 
Regular Updates
PowerPack receives regular updates and improvements. So, you can get the best features for your websites. 
Steller Support
Built by a team of experts and backed by friendly support, you can rely on us for any queries or issues you may face.
Beaver Builder Posts Modules
PowerPack offers a variety of Beaver Builder Modules for displaying post content on your website. This includes the most powerful Content Grid module with the advance grid and carousel layouts along with several styling options. Content Tiles for creating magazine layouts.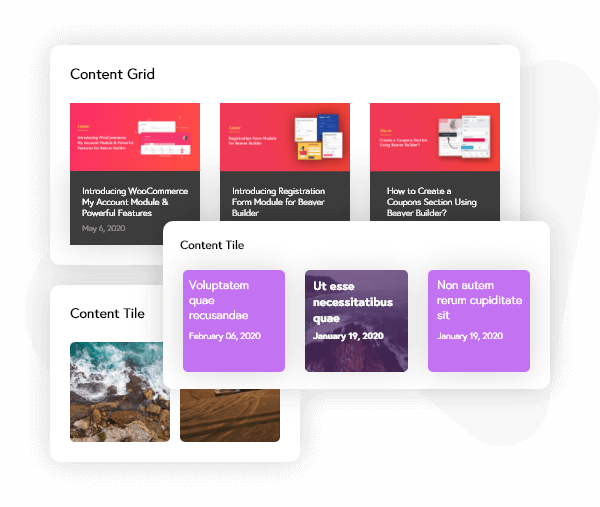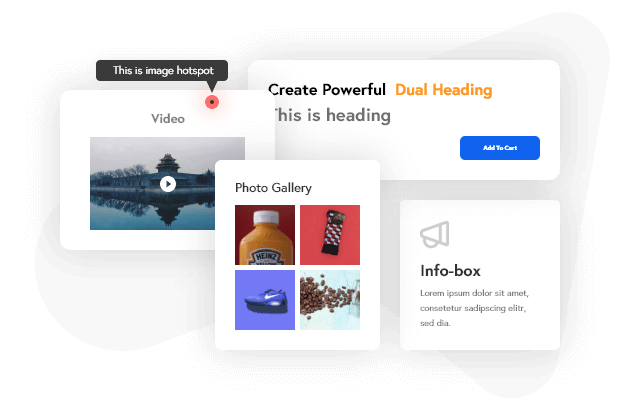 Beaver Builder Content Modules
Create a rich content experience on your website with unique, user friendly, and creative Beaver Builder modules. PowerPack offers a variety of versatile content modules for Beaver Builder like Dual Heading, Info Box, Tabs, Accordions, and many more! So, you can create the best user experience for your Beaver Builder websites with these powerful modules. 
Want to add some extra design and style to your Beaver Builder websites? PowerPack's range of Creative Beaver Builder Modules will help you achieve creative layouts that might seem impossible otherwise. 
Animated headings, one page navigation, 3D slider, team profiles, off-canvas panel, and much more are available in PowerPack to help you build creative layouts.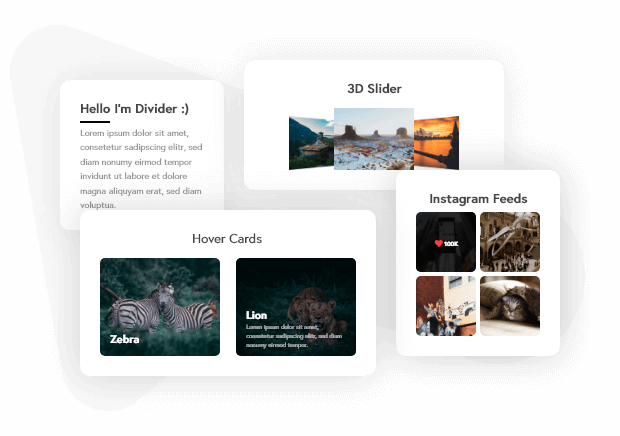 Advanced Beaver Builder Modules
We know every website needs a nicely designed login page for a good user experience. Also, you might like to display some reviews from Google or Yelp for your business. How about a nicely designed search form? PowerPack offers all the essential Beaver Builder Modules for your website development needs.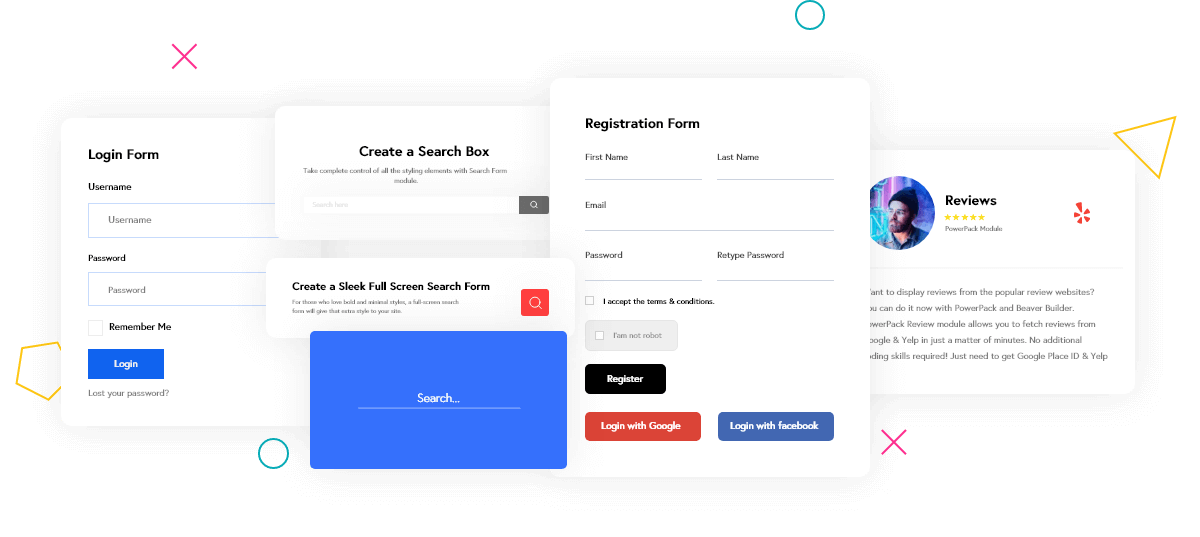 Social Media Modules for Beaver Builder
Social media integration for websites is important to establish a connection with your website visitors or to share the latest updates. PowerPack offers Beaver Builder Modules for Instagram Feed, Facebook Page Feed, Twitter Feed, Twitter embed, etc. and even social sharing buttons with various styling options. This is the most extensive set of Social Media Modules for Beaver Builder. 
We want our websites to rank and perform better in search engines. So, we have built an exclusive set of Beaver Builder Modules for SEO purposes. Leveraging structured data and the power of schema, PowerPack has modules for Sitemap, Breadcrumbs, How-to, FAQ, etc. These modules can help you gain better visibility in search engines.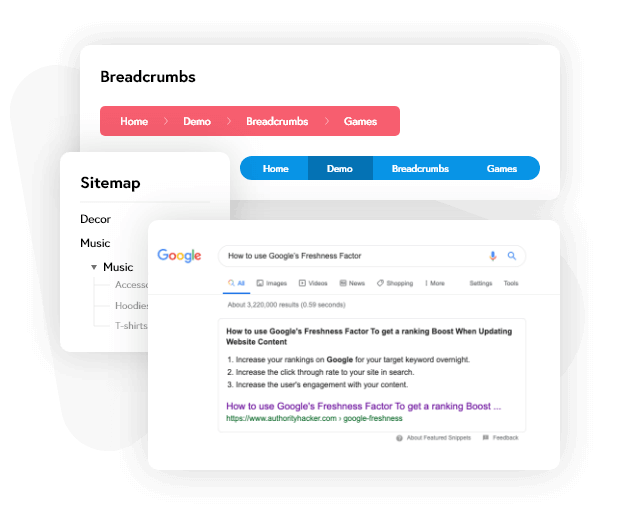 Devin Walker - GiveWP

Excellent plugin. Puneet and company know how to create and support great projects. Keep up the good work!
Robby McCullough - Beaver Builder

Great Product from a Great Team! The guys over at IdeaBox produce great extensions for Beaver Builder and they offer quality support. I'm a big fan!
David Waumsley

If you bought Beaver Builder you really should take a good look at PowerPack. Their commitment to the Beaver Builder community and thoughtfulness has made it an addon that can not be ignored.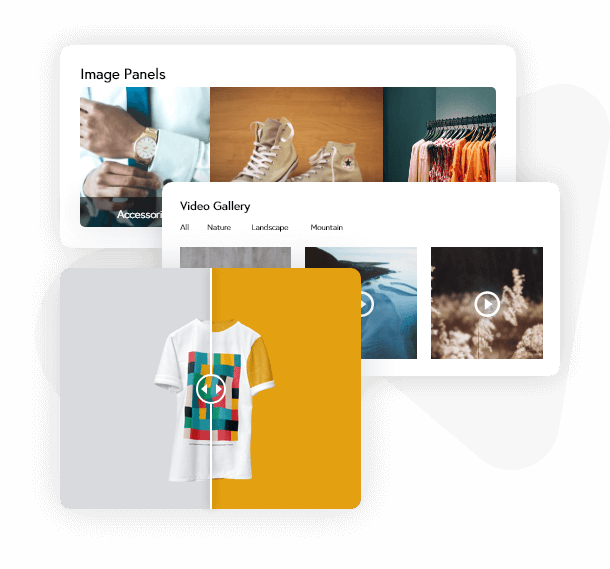 Images and Videos are part of almost every website. PowerPack has a wide range of Beaver Builder Modules for handling the rich media. You can create a filterable photo or video gallery, before-after comparison image panel, image hotspots to create a virtual tour and a lot more with PowerPack. Check out the module list for more details. 
Want to increase conversions on your website or are you running a special promo? PowerPack has specially designed Beaver Builder Modules for such marketing requirements. You can use countdown timer to create urgency, or a popup box to display the special offer or use a signup form to grow your mailing list. There are so many modules that you will find useful for your marketing requirements.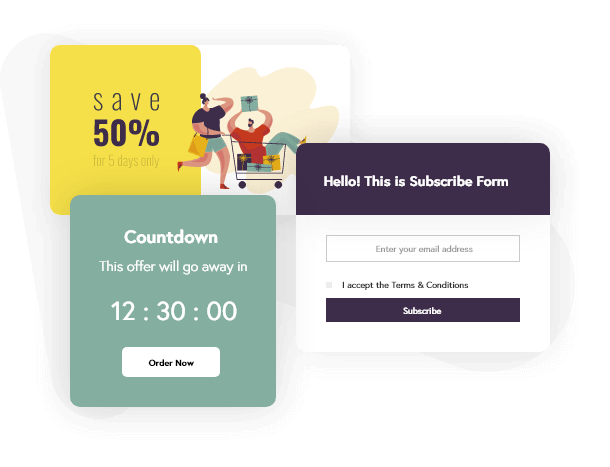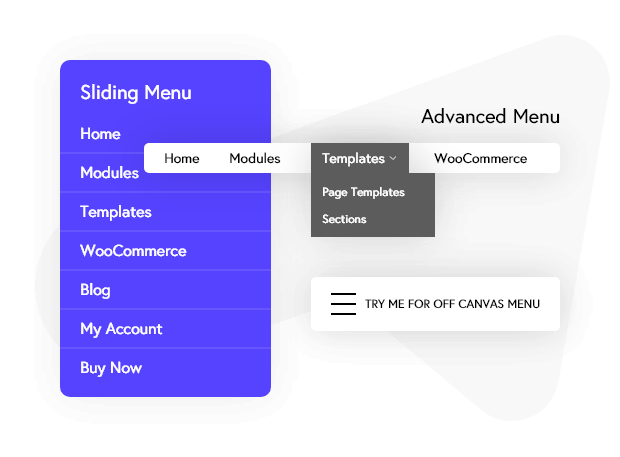 Navigation is an important aspect of every website and creating user-friendly navigation can help you increase user engagement while reducing the bounce rate. PowerPack has a unique set of Beaver Builder Modules for creating navigation menus both for desktop and mobile layouts. These modules offer finely-tuned styling controls and well-thought options. 
We know, it's 2020 and it's still painful to add styling for almost every form builder plugin for WordPress. So, PowerPack has specialized modules for popular form builder plugins like Gravity Forms, Contact Form 7, Ninja Forms, WPforms, etc. With these modules, you can style the form elements using Beaver Builder. No need to write custom CSS or seek someone's help for getting good looking forms for your website.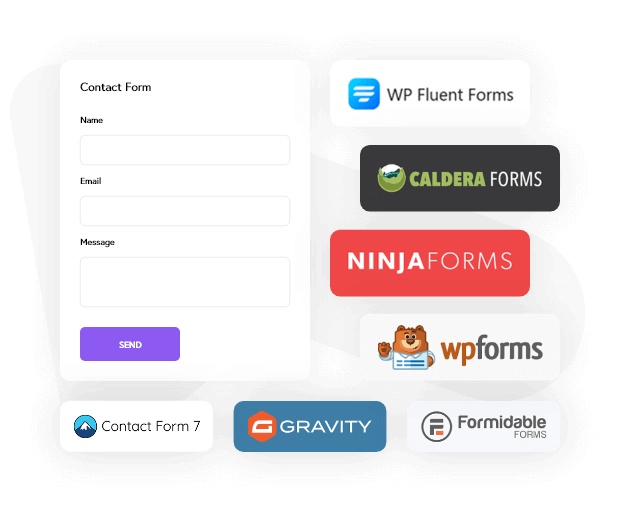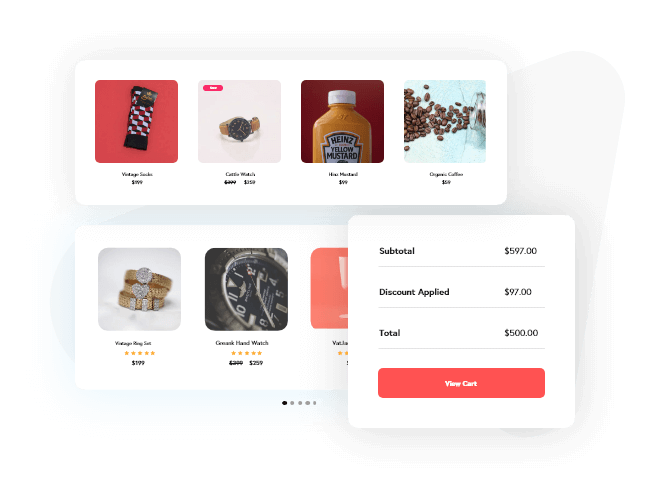 WooCommerce Beaver Builder Modules
Building an online store with WooCommerce and Beaver Builder has just got easier with WooPack - Exclusive set of WooCommerce Beaver Builder Modules. WooPack includes several Beaver Builder Modules for WooCommerce like Product Grid, Category Grid, Checkout & Cart Styler, Off-canvas cart, etc. that can enhance the styling and user experience for your WooCommerce website. 
Background effects can add some extra elegance and interactivity to your Beaver Builder website. PowerPack consists of 10+ Background Effects for Beaver Builder.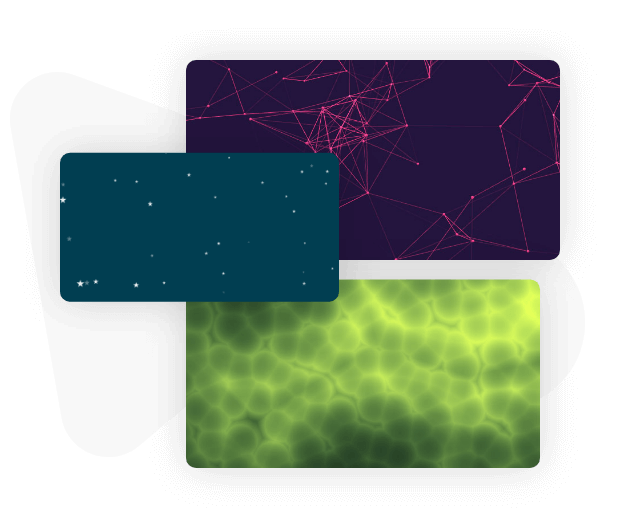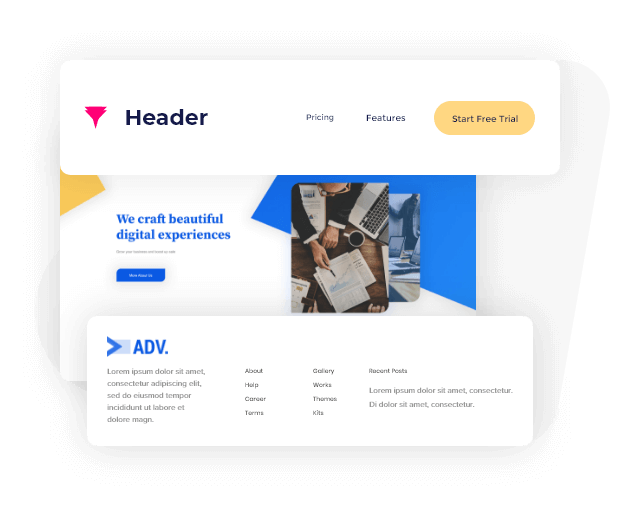 Customizing Header and Footer for your website can be painful. So, PowerPack has solved this problem as well. You can now use Beaver Builder and PowerPack to create Header and Footer layouts for your website. 
With PowerPack, you can customize the login page URL so your clients and users can get an easy way to login to your website along with the security of reCaptcha to fight against spammers. Changing the login URL will also help you from invalid login attempts.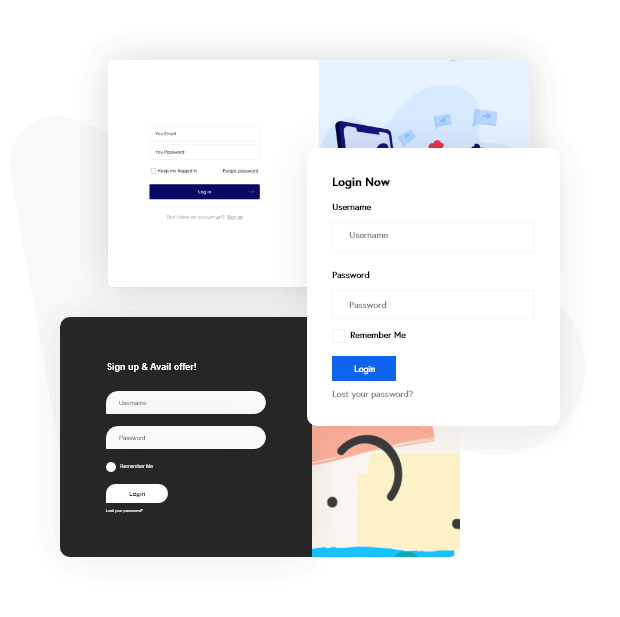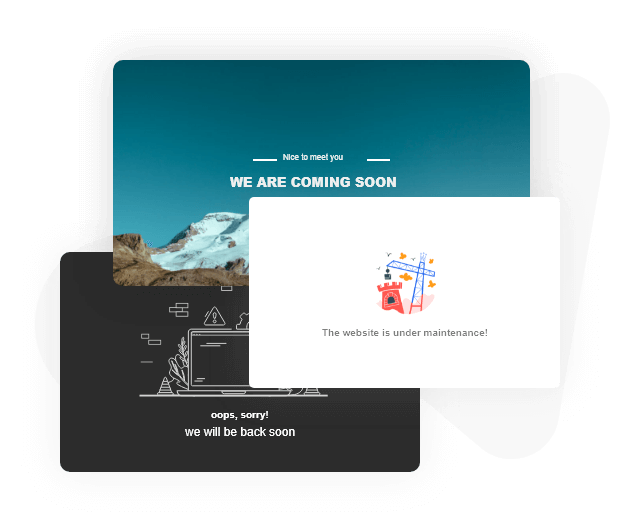 Coming Soon & Maintenance Mode
Making some quick changes or your website needs some updates? You can turn on PowerPack's Maintenace mode to display a message on your website and lockdown the access. If your website is under development and not ready for launch, you can use "Coming Soon" mode. PowerPack is the complete toolkit for your Beaver Builder websites.
Get Access to 350+ Beautiful Templates & 90+ Creative Modules.
Buy worry free with our 14-Days Money Back Guarantee.