Celebrating 3 Years of Success, Love & Trust
Last updated June 13, 2019 · Puneet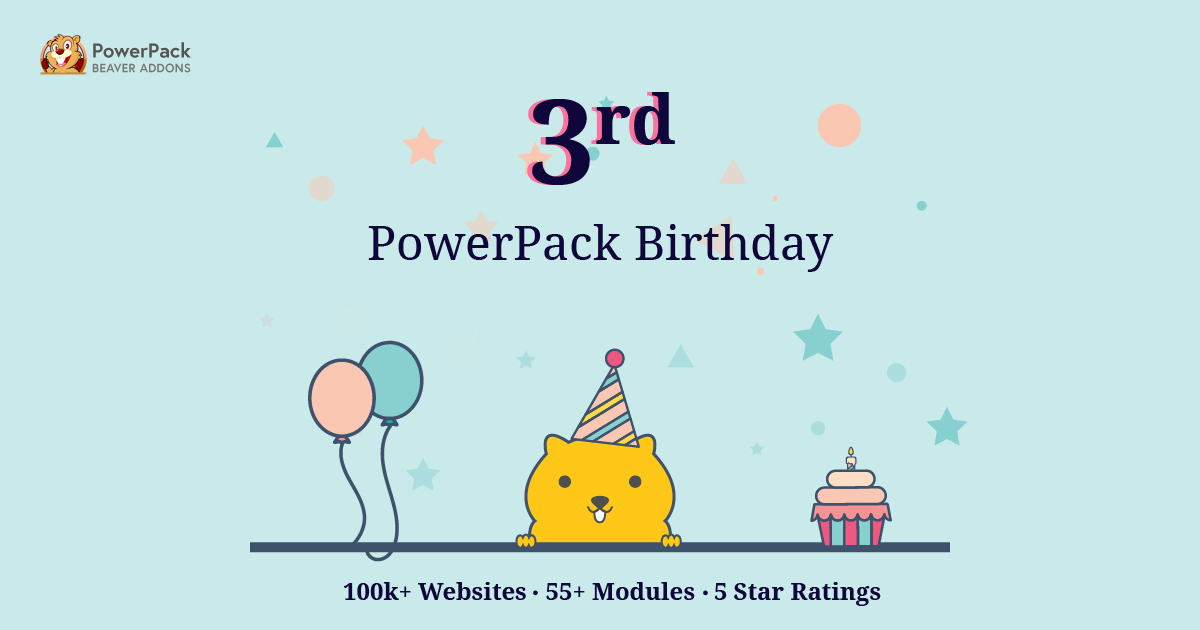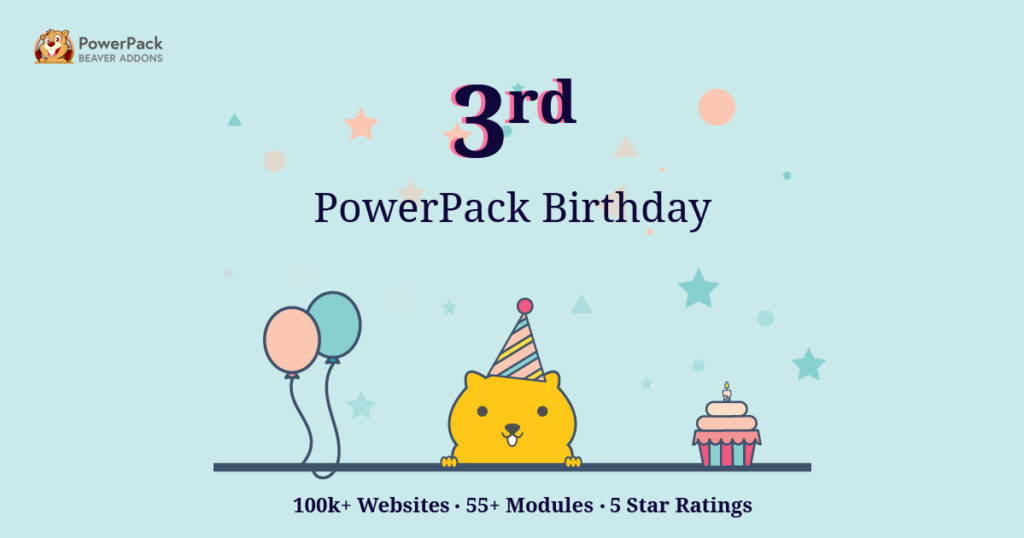 Time flies fast! It feels like yesterday when we first launched PowerPack and became a part of Beaver Builder community. Started as a set of less than 10 Beaver Builder modules, PowerPack now consists of 55+ modules and several other features.
Today, we complete 3 Years of this beautiful journey. PowerPack is our first ever WordPress product. I thank you for your support and trust in us.
Although we were new to the page builder ecosystem, we worked based on user feedback and kept improving PowerPack with every update. PowerPack and our WordPress agency, IdeaBox, is now well known among WordPress and Beaver Builder users.
With every day passing by and every update, we made sure to keep up with your expectations. With this dedication and sincerity, we have been able to accomplish a lot. We received your feature requests, feedbacks, and several appreciations via email, facebook comments, twitter updates, etc. We can say that in such a short span, PowerPack has become the most favorite and loved Beaver Builder addon.
PowerPack'd Journey
We have come a long way, let's take a quick look at our journey in the last year.
100k+ Beautiful Websites
PowerPack now powers 100k+ Beaver Builder websites. We are glad that we could help website owners and businesses to craft a beautiful online presence. We are celebrating this success with 120+ Five-star ratings on WordPress.org.
10+ New Modules
We always believe that competitors can copy, but innovation keeps us ahead. So, we introduced 10+ New modules and features to PowerPack and WooPack – WooCommerce Modules for Beaver Builder. These unique additions to PowerPack and WooPack solve everyday problems that Beaver Builder users face. Once again, we won hearts with these additions. The major highlights were:
Maintenance & Coming Soon Mode
We recently introduced Maintenance & Coming Soon mode feature to PowerPack. So, you can now say goodbye to Maintenace Mode plugins and use Beaver Builder to build a custom coming soon/maintenance mode landing page.
Header Footer Builder
With new additions like Search Form, Login Form, and Cart modules, we realized that users needed an easy way to build custom Header and Footer layouts. Now you can create a custom Header/Footer layout on a standard WP page and assign it as Header/Footer for your site.
Read more about this feature here.
What's Coming Next?
After continued innovation and additions for 3 years, we still believe that there's a lot more to do with Beaver Builder addons. We are now working on a bunch of new modules and templates. Upcoming features:
Video Module
Video Gallery Module
Album Module
Advanced Google Maps Module
Login Page Templates
Coming Soon / Maintenance Mode Page Templates
Special Birthday Discount
To celebrate the success, we are offering a Special 20% Discount on PowerPack & WooPack. This discount is applicable to both new purchases and upgrades. If you haven't got PowerPack/WooPack yet, now is the right time!
You can also upgrade your Licenses from 1 Year to Lifetime Package with this special discount.
Get Beaver Builder addons now.
Got any questions? Or want to send us a birthday message, we would love to hear from you.
A few more interesting posts →
PowerPack Beaver Addons
Start creating beautiful websites with 65+ modules and 350+ templates for Beaver Builder.