????PowerPack Update: New Twitter Modules, Header & Footer Templates!
Last updated May 3, 2018 · Puneet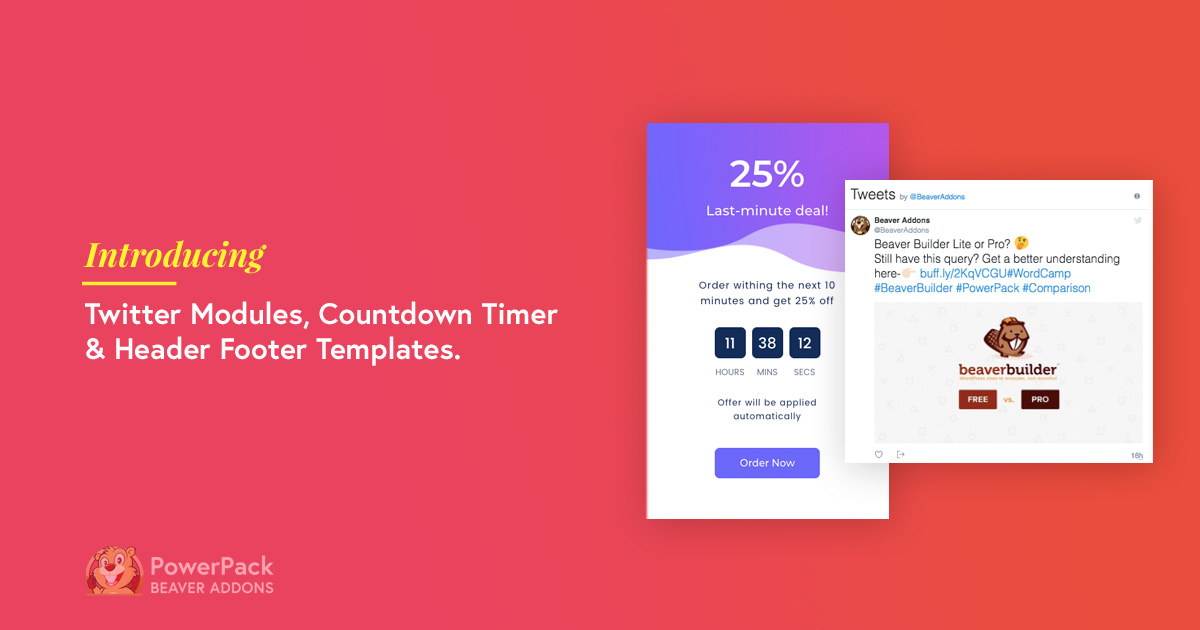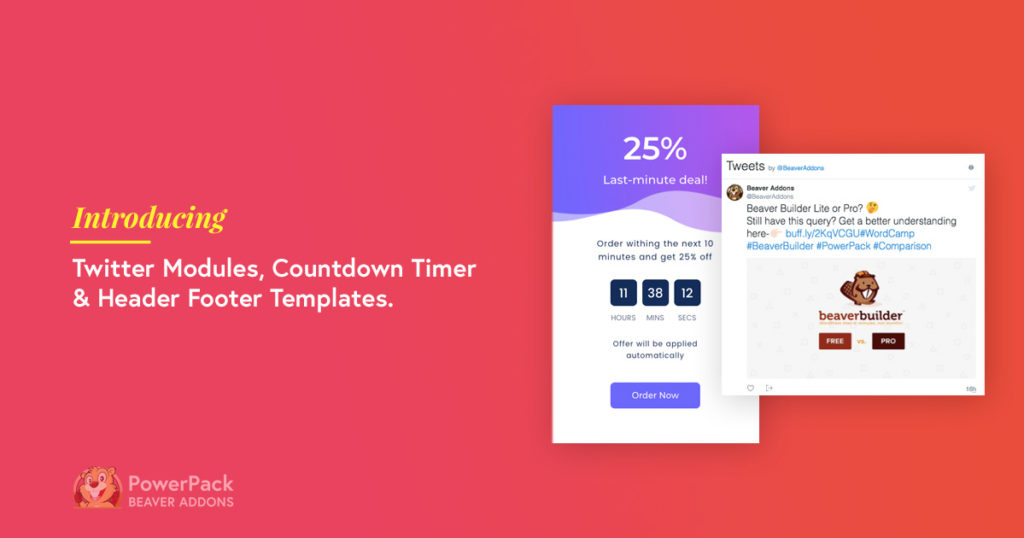 Today, I am excited to announce a new set of Beaver Builder Modules and Templates with PowerPack – The Best Beaver Builder Addon! With this release, we are introducing Twitter Modules for Beaver Builder and a set of Header/Footer templates. These new additions take PowerPack to the next level. I can proudly say that it's undoubtedly the #1 Beaver Builder Addon out there.
In case, you missed it; the last PowerPack update introduced – Facebook Modules for Beaver Builder.
Let's take a look at what we have cooked for you.
1. Twitter Modules for Beaver Builder
After we introduced Facebook Modules for Beaver Builder, we had Twitter Modules on our list. Users were also expecting the same as you can see below:

Finally, here we have a new set of Twitter Modules. These modules will allow you to display Timeline, Twitter Buttons, Grid and Tweets on your website.
2. Header Footer Templates for Beaver Builder
We are committed to building a product that helps our users and saves them time and efforts. So, we have added a set of Header and Footer Templates. You can use these Templates with Beaver Themer and build websites in record time. We have included a bunch of templates that will fit well for almost all kind of sites – eCommerce, Business, Portfolio, etc.
Here's a sneak peek at these new Header Footer Templates.




3. Countdown Timer Module
With this release, you also get a new Countdown Timer module that will be a perfect fit for building sales pages and offering time-sensitive discounts. Use this module to create urgency on your site or set up a "Coming Soon" page.
You can create two types of Countdown
Evergreen Timer – This timer uses cookies and is best for creating time-sensitive offers. After the timer expires, you can redirect the user to a custom URL.
Fixed Timer – This is perfect for creating a "Coming Soon" page or announce the date of an event, webinar etc.
4. Integration with Events Calendar Plugin
PowerPack's most popular module – Content Grid now integrates with Events Calendar Plugin. You can now use Content Grid module with Beaver Themer to display latest events with Event details like Time, Date, Location, etc.
Wrapping it up!
Other than these exciting new additions, we have also made several improvements, feature updates, and fixes to the plugin. You can check the complete Change Log here. So, that's all from PowerPack and Team IdeaBox.
A few more interesting posts →
PowerPack Beaver Addons
Start creating beautiful websites with 65+ modules and 350+ templates for Beaver Builder.