Giveaway: $1100+ Worth of PowerPack Licenses
Last updated October 13, 2016 · Puneet

Yes, we are celebrating our little Beaver's growth and giving away 5 Lifetime Licenses and 4Yearly Licenses of our PowerPack addon . We have completed the 4th week of our launch today and celebrating the journey with the amazing Beaver Builder community. We are happy to have passed 200+ users mark in less than 30 days.
What makes PowerPack so special?
Unique Modules
We have a set of 25 unique and creative modules that truly help you build your websites faster. Stylize your forms with Gravity Form and Contact Form 7 modules, or create smart popups with the Modal Box module. Looking to add some styling to your content? Try out our Row Separator, Smart Button and Headings modules. There's much more to explore, check out our complete list of Beaver Builder modules and demos.
Proven Track record
In last 3 weeks, we rolled out 3 major updates with new Beaver Builder modules and features. Along with that, there were 4 minor releases for bug fixes and enhancements.
The 4th major upgrade is scheduled for this weekend. We will have new modules for 3 form plugins – WPForms, Caldera Forms, and Formidable Forms. With these modules, you can stylize your forms on the front-end using Beaver Builder.
Don't just take our word for it! People love it.
Over the last few weeks, our little Beaver has received some unconditional love from the Beaver Builder community and our group on Facebook.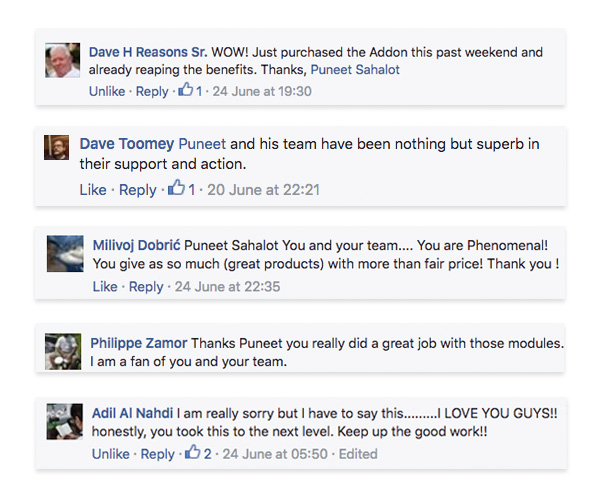 You can read a few more reviews on the home page of our website or join our Facebook Group
How to enter the Giveaway?
We have planned out two different giveaway options that make it a perfect fit for all existing and new users.
Existing Users: $100 OFF on Upgrade.
Also, Win Your Money Back! (4 users)
All the existing users (till July 15, 2016) can avail a $100 discount to upgrade to the Lifetime License (actual price $199).
If you have purchased the 1-Year license of PowerPack on or before July 15, 2016, then please contact us to receive your $100 upgrade discount.  
We will track all the user emails that upgrade during the giveaway period. All our existing lifetime users will already be a part of the giveaway. At the end of the giveaway, two winners will be picked up randomly and refunded 100% of their money spent. 
Two winners will be selected from our current and new 1-Year License holders.
So, that makes it a total of 4 winners – 2 for Lifetime Licenses and 2 for 1-Year Licenses.
How to Upgrade:
Login to your account by clicking here.
Click View Licenses 
Click View Upgrades
Click Upgrade License 
Complete the checkout process.
New Users: Win 3 Lifetime Licenses & 2 Yearly Licenses (5 users)
Haven't tried the PowerPack yet? Now is the time! Get your copy of the PowerPack addon without spending a buck. Participate in our giveaway, increase your scores and increase your chances to win.
Other details about the Giveaway
Unlike other giveaways, we aren't dragging this for long. The giveaway will end on July 30, 2016. Winners will be declared on August 1, 2016
Winners will be picked randomly using http://random.org/
You can increase your score and chances to win by completing all the steps mentioned in the form below.
Join us on Facebook
We have an amazing community on Facebook. We help each other, we discuss ideas, we share updates and bug fixes, we maintain transparency with our users. I am sure, you would love to be a part of it! Join our Facebook Group.
Participate now!
Winners
New Users – Lifetime License
Jamie
Volker Heil
Dez Futak
New Users – 1-Year License
Elizabeth Crane
Bob Campbell
Money Back – Lifetime License
Brian Reece
Phil Coxon
Money Back – 1-Year License
Craig Paterson
Colin Tovey
A few more interesting posts →
PowerPack Beaver Addons
Start creating beautiful websites with 65+ modules and 350+ templates for Beaver Builder.