Is BlogVault the Best WordPress Backup Tool? Here's a Detailed Analysis
Last updated September 25, 2019 · Puneet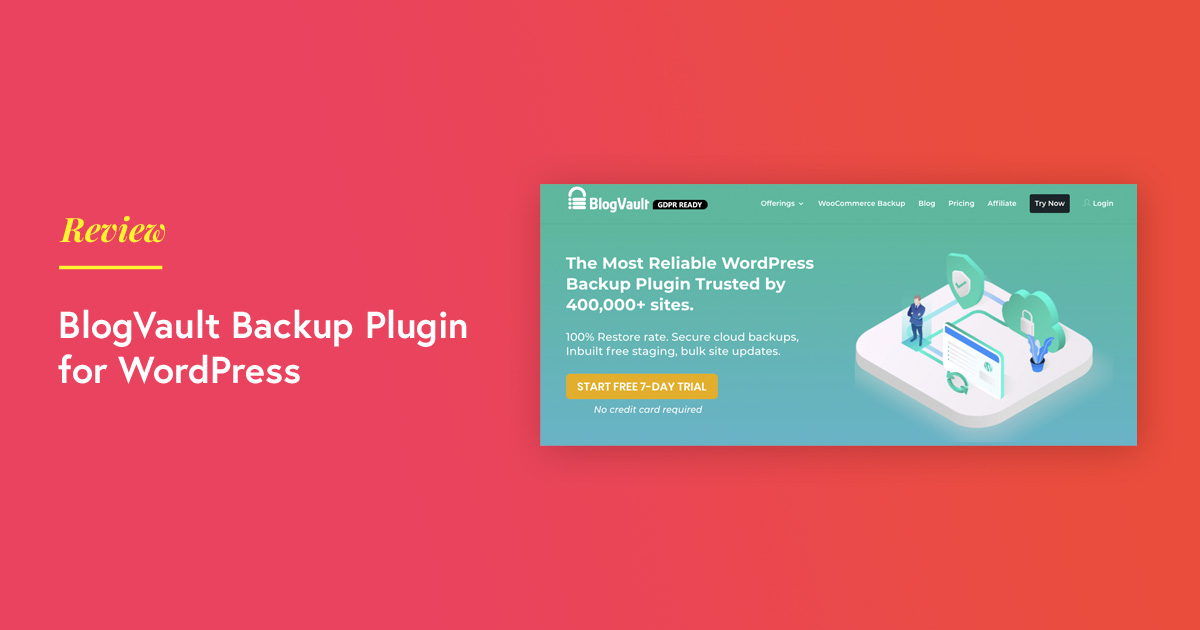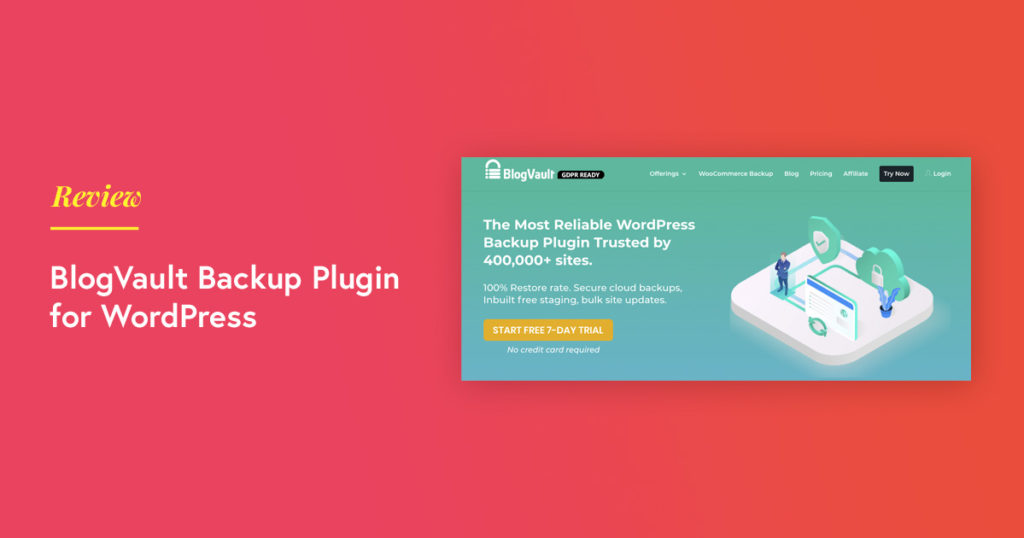 For most people, their website is the key to the success of their business. But just like anything else in our world, a website is prone to risks and uncertainties. You know there are hackers out there. You know there's malware out there. You could introduce an error that could bring your site down. So how do you handle it?
It's simple – take a Backup! Making a copy of your website and all its data would mean you have a safety net to fall back on. A backup should be easy to restore and must be stored safely. Then you can be at peace, knowing that you're prepared to bounce back immediately in case anything were to happen to your site.
Now all that's left to do is choose a backup solution. But of course, WordPress has no dearth of plugins! The options are too many and too confusing. So how do you choose? We've done the homework and found a plugin that goes beyond being a backup solution. Let's take a look.
BlogVault Backup Plugin: Detailed Review
Trusted by over 450,000 WordPress websites, BlogVault is an all-in-one WordPress backup solution. With a 100% success rate in website recovery, BlogVault uses advanced backup technologies that can backup without impacting the speed or performance of your web server. Along with secure backup and recovery, this tool provides additional features like website staging, migration, and merging.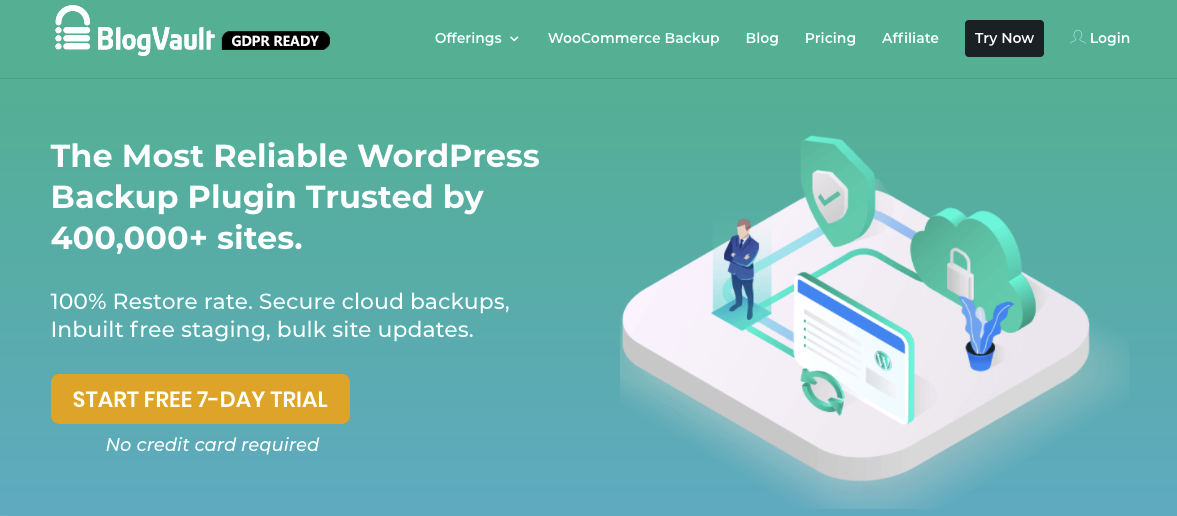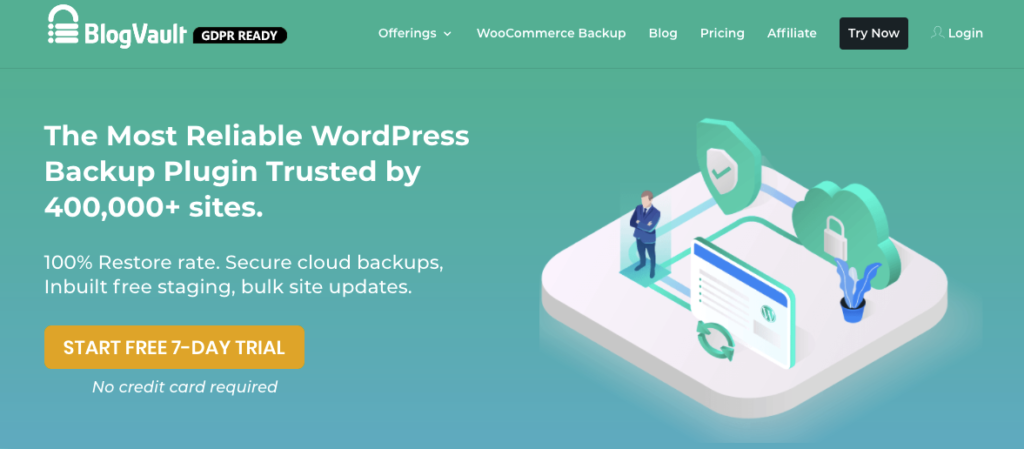 Here's a list of BlogVault features that sets it apart from other backup tools available in the market:
Easy installation and setup

Incremental backups

Auto-Restore

Free In-Built staging and merging

Website migration

Customized WooCommerce Backups

Website management

Affordable pricing and customer support
Let's take a more in-depth look to really see how these features could benefit you and your website.
1. Easy Installation and Setup
The BlogVault backup tool is easy to install and configure for your website. You can install this plugin using either of these methods:
From your WordPress Admin panel by adding and uploading this plugin tool.

Sign-up

on BlogVault with your email address. After user registration, you will receive an email with the dashboard link. Use it to sign in and start using the plugin.



Set up your BlogVault account and add your websites (as detailed here). That's it; you are all set to begin! 
2. Incremental Backups
What are incremental backups? Well, BlogVault initially takes a complete backup of your website by breaking the data down into smaller manageable chunks. These are encrypted and stored in different storage locations. For subsequent backups, the tool tracks any and all file changes and takes a backup of only those parts that have been modified (instead of the entire website data).
This technology enables BlogVault to easily take backups of large websites with over 350GB of data. Additionally, BlogVault performs the backup operation on their servers, preventing any overload on yours. This advanced incremental backup technology sets BlogVault a class apart from other WordPress backup tools.
2.1 How often can I take backups?
BlogVault allows you to perform:
Daily scheduled backups

– You can set a scheduled time for the backup to be carried out every day. 

Real-time backups –

Every change made on the site is backed up immediately. This is highly recommended for WooCommerce sites. Every time your website data experiences a change – such as a new order, new account created, etc., – it triggers the plugin to copy the change. 

On-demand backups

– You can make the plugin take a backup any time you want. If you've made changes and the backup is scheduled, say, 12 hours later, you don't need to wait. You can create a backup immediately. You can avail this option an unlimited number of times. 
2.2 Where does BlogVault store my backup data?
Apart from the mode of backups, it's important to consider where the backup data is stored to ensure its safety and easy recovery. BlogVault encrypts and stores your backup data on offsite cloud platforms like Amazon S3. This ensures that your backup data is in a safe location and can be easily downloaded (when required) to your local computer or any online storage system like Dropbox or Google Drive. 
3. Auto-Restore Functionality
No backup tool is effective unless it can provide you with an easy restore of your data. BlogVault simplified the process to ensure that you don't need to have any technical knowledge to restore your website data.
All you need to do is select which version of your backup you want to restore! You can choose to restore your data from:
BlogVault storage repository

Local computer

Google Drive or any offsite storage location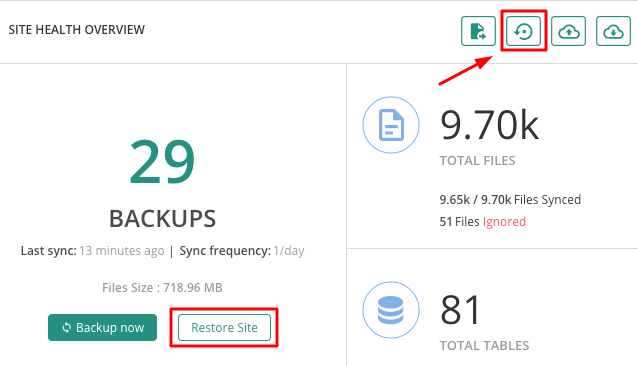 Apart from its ease of use, BlogVault's Auto-Restore functionality enables a fast restore process that ensures your website is up and running in the quickest time possible! Thanks to its incremental sync technology, BlogVault can restore even large websites quickly by restoring smaller and manageable chunks of backup data.
With the Test Restore functionality, you can check how a backup version functions or looks on a website staging environment first. Only when you're happy with it, you can restore the backup to your live site. This is probably the best way of avoiding common problems associated with direct restores.
4. Website Staging and Merging
Did you know that outdated plugins and themes are one of the main ways through which hackers gain access to WordPress websites? Most website owners are aware of this security concern but are hesitant about updating their installed plugins/themes as they fear that their websites may crash during the update process.
Click here to check out a video walkthrough 
Well, the BlogVault tool resolves this issue with its website staging feature. The staging environment is a replica of your live site.  You can use it to install new plugins/themes, update existing ones and test changes without posing any risk to your live website.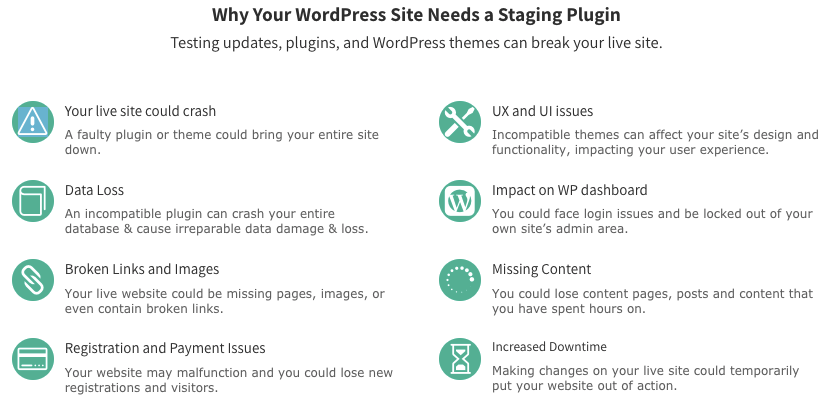 What are the other benefits offered by BlogVault staging and merging feature?
Easy one-click staging that can be performed in under 10 seconds.

Staging and merging are performed on BlogVault's dedicated servers, thus protecting your servers from any performance overload.

Seamless merging of changes on the staging site to the live website.

Selective merging facility where you choose what to merge (from the staging site) while retaining new changes (if any) on the live website.
5. Website Migration
How often have you wanted to move your business website to a better domain or web host? You might hesitate because of the risks that website migration poses to your website. Or you may think you need  technical expertise to accomplish this task.
BlogVault has a simplified process of WordPress migration that seamlessly moves your existing website to a new web host or domain with zero impact on your live website.
Here are some of BlogVault's migration-related features that distinguish it from other migration tools:
Migration that supports over 10,000 web hosts.

Full website migration, including WordPress and non-WordPress files along with database files.

Use of incremental sync technology for migration for smooth migration of large websites (over 350GB data) using smaller manageable chunks of data.

Suited for migration of large multisite installations in quick time.

Automatic URL rewrites at the destination domain to ensure that there are no broken links or missing pages.
With its 1-click migrate option, BlogVault completes the entire migration without needing any human intervention.
6. Support for Real-Time WooCommerce Websites
To support the backup needs of WooCommerce websites, BlogVault offers customized WooCommerce backups with the following features:
Real-time Backups

that implements a backup each time a change is made on the WooCommerce-powered website. This could include a transaction or order-related change.

Hook and Trigger Method

to save a backup in real-time. While hooks are used to identify a website change, triggers are used to initiate the website back up.

365-Day Backup Archives

that is available only for WooCommerce website owners. You can access this year-long backup archives from your BlogVault dashboard and view or download them to your local computer or Google Drive account.

Smart Change Tracking

keeps track of every change being made on your website and reports them for you to take the necessary measures.

Live Progress Updates

that alerts you of any update required on your WooCommerce website.
7. Website Management
BlogVault provides a centralized and independent dashboard feature that lets you manage everything from a single location. Protected with 2-factor authentication, this user dashboard enables you to monitor your website performance and access your backup data (even when your website is down).
You can use the BlogVault dashboard to perform multiple tasks, including:
7.1 Applying updates to installed plugins/ themes
It is necessary to regularly update all the installed plugins/ themes on any website to keep it safe from hackers and malicious activities. However, this task can be quite cumbersome and time-consuming due to the volume of installed plugins and themes.
You can complete this task in no time from the BlogVault dashboard that lets you easily update all the installed plugins and themes from a single location.

7.2 White Labeling
Are you running a WordPress development business or agency? If yes, then you'd often need to hide or rebrand your WordPress plugins to suit your brand's needs. With BlogVault, you can white-label your developed plugins to achieve your objective.
7.3 Managing users
Among the most time-consuming tasks for any WordPress admin user is to manage users and their user credentials along with assigning the proper user roles with specific privileges.
From the User management module of the BlogVault dashboard, you can easily add (or remove) users and even assign (or change) their passwords.

7.4 Website Security
In addition to its backup functionality, the BlogVault tool also provides comprehensive website security with their own security plugin, MalCare. You can configure MalCare from the dashboard and implement many of its security features such as 1-click malware scanning, instant malware removal, firewall protection, and website hardening measures, to keep your website safe and secure from hackers! 
8. Affordable Pricing and Customer Support
To resolve customer queries and issues, BlogVault provides 24×7 customer support through email or online chat with their customer support executives. As a customer, you are assured of a response to your query within 24 hours.
Along with a limited free trial version (for all new users), BlogVault offers annual plans that are customized according to the number of websites. The basic 1-site plan is priced at an affordable $7.4 per month. You can get complete details of all their plans from the BlogVault Pricing page.
BlogVault Review: Conclusion
With advanced features like incremental sync for faster backups, dedicated servers, website staging, and merging, BlogVault offers complete value to your website backup needs with its affordable pricing. Easy to install and configure without any technical expertise, BlogVault has simplified website backups and restores for WordPress users.
To wrap up, finding the best backup solution for your website might leave you in a tizzy. To overcome this, we recommend you try BlogVault today and check out its innovative features for yourself. Going over and above being just a backup plugin, BlogVault definitely makes to the top of the list! 
A few more interesting posts →
PowerPack Beaver Addons
Start creating beautiful websites with 65+ modules and 350+ templates for Beaver Builder.