5 best free Backup Plugins for WordPress
Last updated September 1, 2019 · Preeti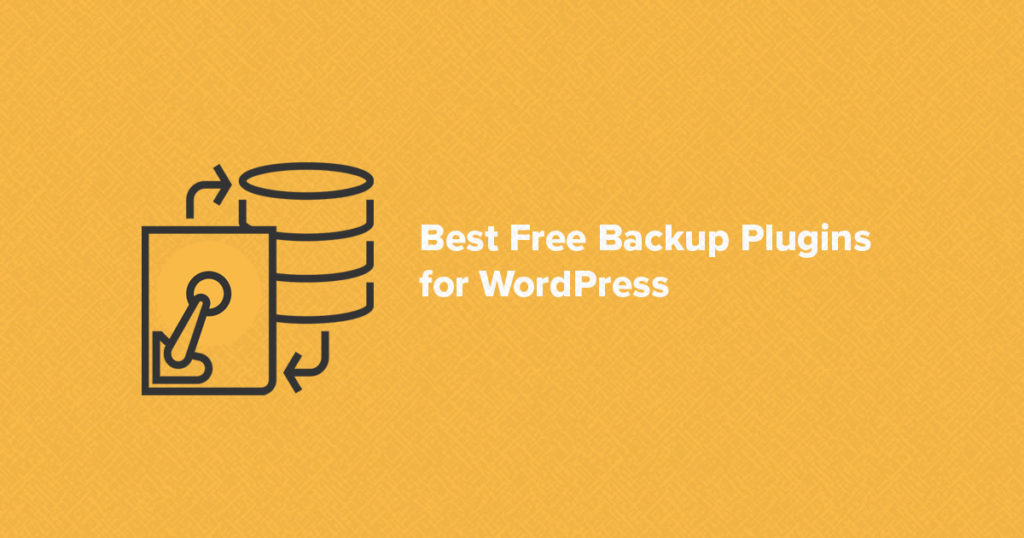 Losing all data from your website almost sounds like a nightmare.  I am sure no one would want to dream of it even. There are many reasons behind this to happen. But certain things can be controlled. If you properly backup your WordPress database and files, you can quickly restore things back to normal.
Regularly backup your database, and always before an upgrade.
Site backups are necessary because problems do occur and you should be capable of taking appropriate action when disaster strikes. Investing a little time in backing up your site will save you many hours of a problematic situation.
To guard against this, you can use Backup Plugins. They can prevent hacking or server crashes.
Backup plugins can backup posts, pages, product descriptions and whatever else on the site. There are plenty of Free as well as Premium Backup Plugins available for WordPress.
Here in this post, let's have an in-depth look at 5 best free backup plugins and explore some of their features too.
Free WordPress Backup Plugins
1. UpdraftPlus Backup Plugin: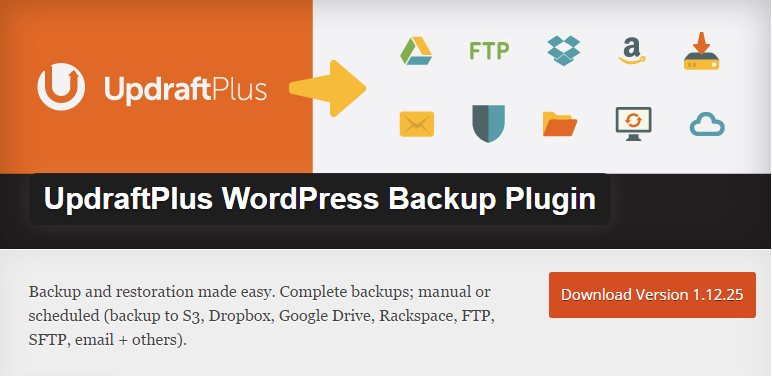 This highest ranking (4.9 star) free WordPress backup plugin has been authored by David Anderson. It's highly capable of keeping your site safe and secure. Plenty of add-ons such as site duplicator & migrator, multiple backup storage destinations and an advanced reporting tool enhances the plugin.
Features:
Supports WordPress backups to UpdraftPlus Vault, Dropbox, Google Drive and so on
Provides quick restore (both file and database backups)
Performs automatic backups periodically
Large sites can be split into multiple archives
Supported on all current PHP version (5.2 – 7.0)
Ease of Use: It's easy to use for novices as well as experts.
2. Duplicator: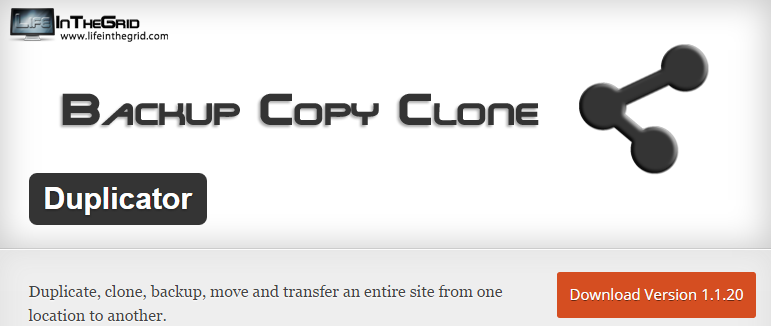 Cory Lamle authored this extremely useful backup plugin. It can backup, move and transfer an entire site from one location to another. It enjoys a 4.9-star rating out of 5.
Features:
It provides complete redundancy.
Gives automated backup  and hence  easy to us
Can migrate a live site to localhost for development purpose.
Duplicator also provides the facility of manual backup.
Ease of Use: Although a useful backup plugin, it requires average technical knowledge to use this plugin to the fullest.
3. BackUp WordPress: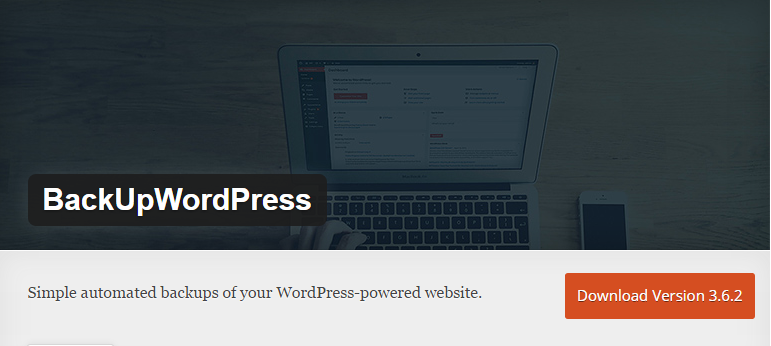 Simple automated backups of your WordPress-powered website can be obtained by this free backup plugin authored by Human Made. It is a complete WordPress backup plugin with automatic scheduling support. It enjoys a good 4.7-star rating and has been installed more than 200,000 times.
Features:
Provides entire site backup.
Works well even on low memory and is suitable for shared host environment.
It also supports multiple languages.
Provides good support in case help is needed.
Ease of Use: It's easy to use but requires PHP version 5.3.2 or later.
Download BackUP WordPress here
4. Back WPup Free: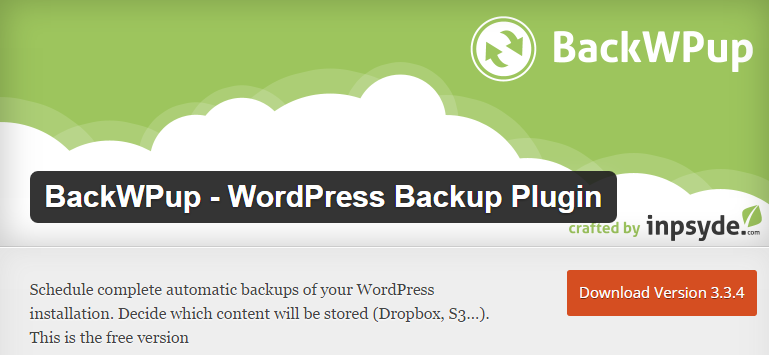 BackWPup Free is one of the most popular free backup plugins for WordPress and is authored by Daniel Husken. It has been given a 3.8-star rating and has been installed 300,000 times.
Features:
It gives option to use external backup services such as DropBox, Rackspace Cloud or S3.
Can also optimize, repair or even check your database.
Ease of Use:  It is extremely easy to use and allows you to schedule automatic backups as per your site's update frequency.
5. WP Time Capsule: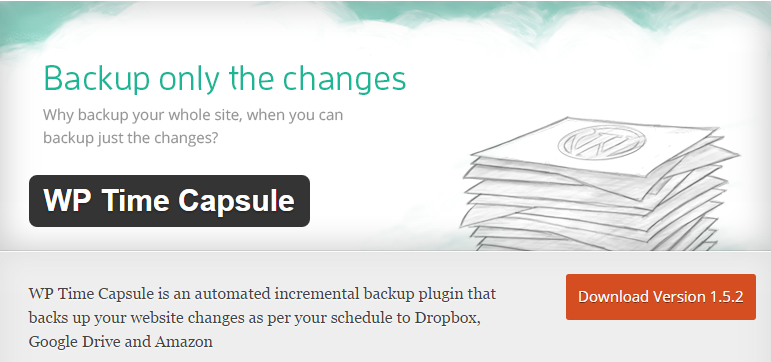 Authored by Revmakx, WP Time Capsule is an automated incremental backup plugin that backs up your website changes as per your schedule to Dropbox, Google Drive, and Amazon.
Features:
It backs up and restores only the modified files and database and not the entire site every time.
The backups are compressed and zipped.
Restoration time is less.
Ease of Use: It's easy to use for beginners as well as professionals.
The above listed are 5 best free backup plugins available.  In case, you need some extra features, you can anytime opt for the premium upgrades of these free plugins.
Bonus: BlogVault Backup Services (Freemium)
BlogVault is a premium WordPress backup solution authored by Akshat Choudhary which offers incremental backups, staging, and security. This all-in-one solution has a 4-star rating and covers more than 450,000 websites.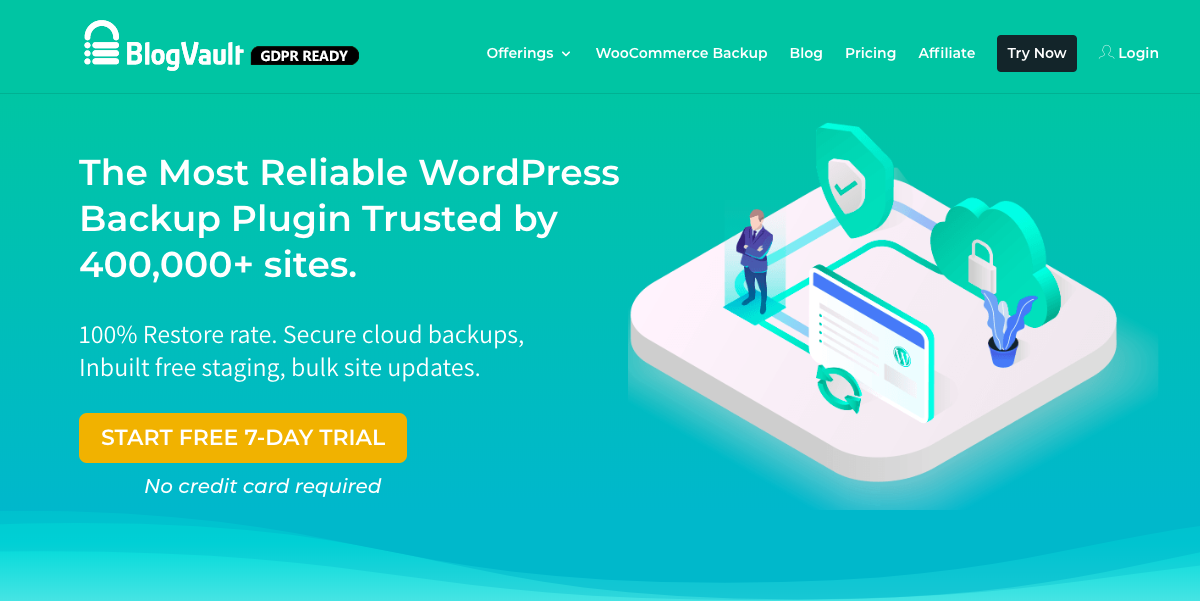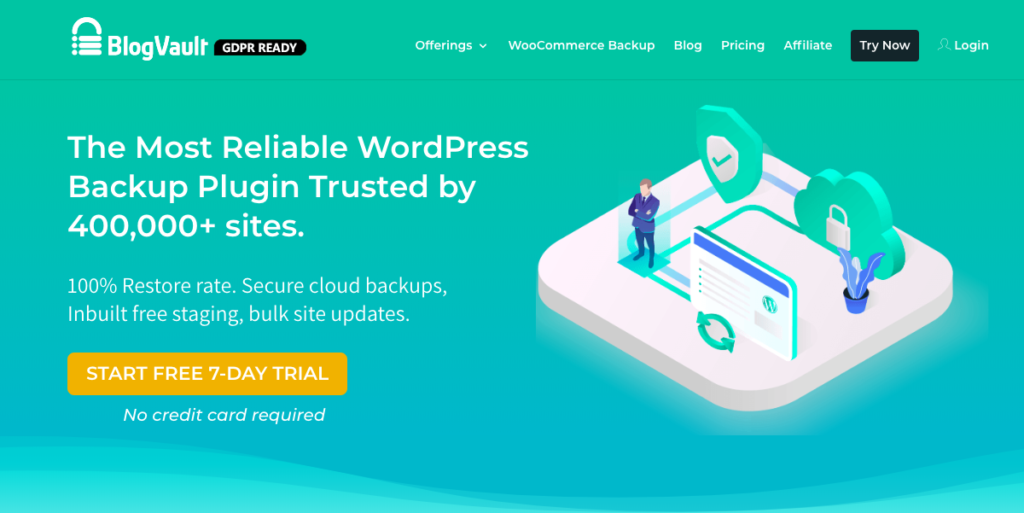 Features:
Incremental Real-time Backups stored offsite for zero load on your site
One-click Free Staging to test updates and make changes
White Labeling and Client Reporting offered
Compatible with more than 10,000 web hosts
Premium plans include advanced website security too!
Ease of Use: Their Centralised Dashboard is easy to navigate through for beginners and professionals.
A few more interesting posts →
PowerPack Beaver Addons
Start creating beautiful websites with 65+ modules and 350+ templates for Beaver Builder.