Customer Spotlight : Chantal of 1 Day Webs
Last updated December 22, 2016 · Preeti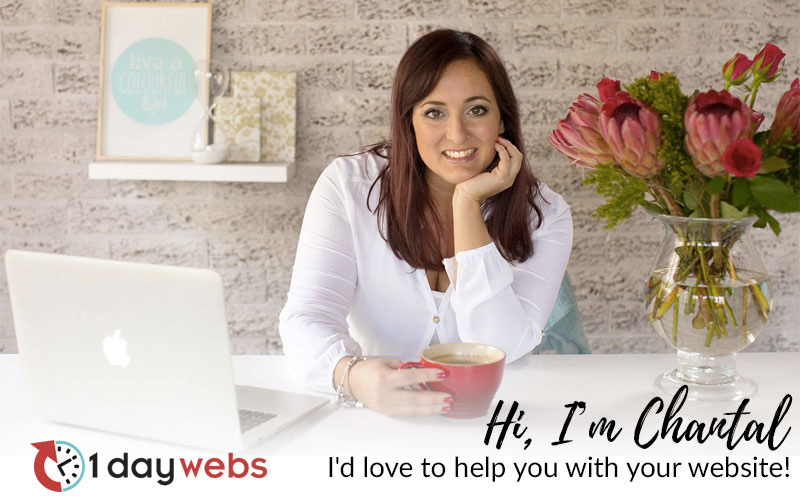 Today, we are excited to announce our new series – Customer Spotlight. This series is aimed at learning and sharing from designers, developers, business owners and Beaver Builder users. 🙂  It's a simple Question & Answer series featuring our customers who share their experience on growing their business and developing their website using Beaver Builder along with PowerPack.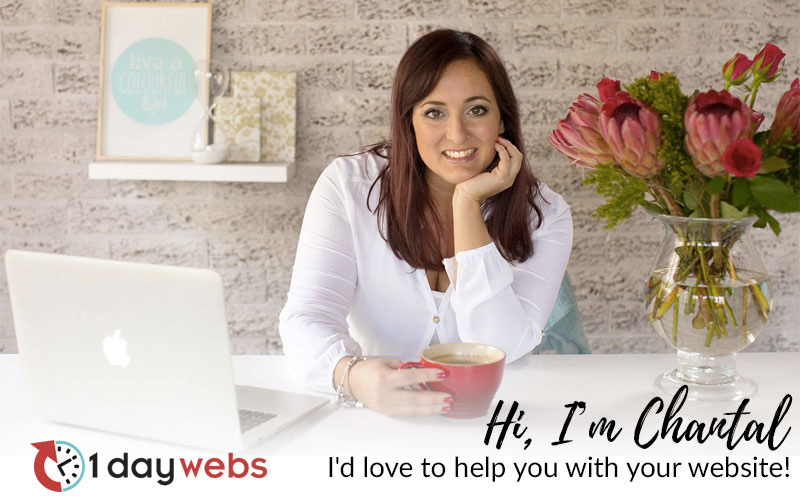 Customer Spotlight: Chantal of 1 Day Webs
Today's Customer Spotlight introduces you to Chantal, her full name being –  Chantal Marie-Laurence Edouard-Betsy. To say something more about Chantal,  she's the founder of 1 Day Webs. Here's her interesting story of starting her web business and how Beaver Builder transformed it! 
Sit back, go through the post and Enjoy !!
Q: Hi Chantal!  Tell us something about you, your business and your name 😉
I'm Chantal from 1 Day Webs, I'm an award-winning businesswoman from Durban, South Africa.  I started 1 Day Webs to provide a one day web development service for client who are fully prepared and organised to get their website done.  My full name is rather long … Chantal Marie-Laurence Edouard-Betsy – this is courtesy of a French Mauritian father and South African mother.  No idea what they were thinking – but there's only 1 of me and it's kind of grown on me so I think I'll keep it LOL.
Q: How did you start your business? Is there an interesting story here?
Yes indeed, there is, I had a previous web design house called Cooked Media – and had been doing websites for clients for about 3 years through this business.  I was becoming increasingly frustrated with my business and processes because I was tending to get clients that needed a lot of hand holding and ended up spending far more time on simple websites than anticipated and performing additional roles (like Business Coaching, Branding, etc) in an attempt to get content out of clients.  I stupidly wasn't charging for all these additional services and time spent and so my business was beginning to fail financially and I was getting disillusioned.
 I stumbled across Beaver Builder while I was researching better tools to use and the concept of a "one day website service" on one of the Facebook Groups I was on and the concept hit me like a ton of bricks!  12 hours later I have built 1daywebs.com and decided on the new direction I wanted to take.  With the help of my business coach I put my plan in place and it has been a fabulous experience from day 1.  My ideal client really gets my offering and I am passionate about my business again and within 4 months of starting, the financial side of the business really started flowing again.  If anything I wish I had discovered Beaver Builder and changed my offering long before.
Q: What does a typical day in your life looks like? How do you keep yourself productive?
I have an incredibly supportive partner who starts his day very early (he's a landscaper) so I am very lucky to start my day with breakfast in bed and some quality time with our fur children (2 crazy dogs).  I then head down to our beautiful Durban beachfront at 6:30am and walk 7km along our promenade.  I'm home, showered, dressed and at my desk between 8:30 and 9am and I typically don't leave my desk before 4pm.  I'm fortunate to have a stunning office in my home that looks out onto my garden and pool so it's one of the happiest places in my home.
 Evenings are spent cooking together (I'm quite the foodie) and relaxing or entertaining & socialising with friends.  It's really quite mundane but I love my life 😀  I must say I don't struggle to keep productive, I love being busy and under pressure – I perform at my best in those circumstances.  But naturally I think we all have days every now and again where we just look at our machines in the morning and can't be productive … I use those days to do things like drive around and get my chores done, or do research, so I try and work with my productivity rhythms as much as possible.  I also try as much as possible not to work on a Friday unless absolutely necessary.  I believe in work hard – chill hard and have to be quite strict with that or I tend to work myself to death because I love what I do.
Q: You do a lot of websites for Female Entrepreneurs, why did you chose that?
I'm not sure if I chose it or if they chose me (LOL) – I think it's a mutual choice.  I think I tend to attract the kind of businesses and personalities that I enjoy and that interest me.  At the end of the day, people choose to do business with people, not brands.  So there's normally some sort of connection, shared interest, synergy, understanding, etc. that makes the combination a natural fit.
 I think because I myself am an award-winning female entrepreneur, I can connect and resonate with other women who are on similar paths.  It also allows me to offer a lot of valuable business advice – outside of merely website advice – based on my experience.  I guess we speak the same language and if you're on the same page it makes the whole process seamless and easy.
Some beautiful sites built by Chantal 
Q: What has been your favorite business experience? How do you keep your clients happy, any tips?
I really can't choose one, there's something I say all the time and that's that I fall in love with every site I work on, and it's just true.  I am so filled with passion for what I do that I can't help love every project.  Working with clients who are motivated and excited helps as well. I think for me the secret to keeping my clients happy is listening and hearing and getting the soul of their business (I know this sounds corny) – I understand their needs very well so can execute and deliver something which is exactly what they wanted without even communicating it clearly.  My favourite business experiences are always the reactions to seeing their sites and the spontaneous testimonials I get.  The endorsements to other people and referrals are what really make my heart warm.
 Q: What business tools and resources do you use and recommend?
Obviously WordPress, Beaver Builder, Gravity Forms and PowerPack for my typical website builds.  But in addition to that I wouldn't run my business without WooCommerce Bookings, Calendly, and my marketing automation system (Mautic).  Oh and of course not forgetting gMail as an email host and Dropbox for all my client documentation.  Oh and PayPal of course, PayPal's my best friend.
Q: What made you chose Beaver Builder? How has it transformed your business?
I was frustrated with the bloated Themeforest themes I was using and Visual Composer and I was looking for a way to streamline my process.  Lots of research online led me to the Beaver Builder community.  OMG BB has completely changed my whole business!  I changed my model from a traditional web design and development service to a one day website service – increased my rates – changed to a USD based model and have never looked back.  At least 50% of my business is international now and that percentage is growing with time.
Q: Let's talk a bit about PowerPack. What are your favorite features and how it helps you with your client sites?
Hands down the Content Grid is probably my favourite module – but I use many many modules day in and day out – all the "unsung" heroes of PowerPack … Like Smart Headings, the Subscribe Form module, Testimonials, actually just too many to mention.  Modal Box and Announcement Bar are 2 other favourites.  PowerPack is really my go to module pack and these days the only one I install.
Q: What are your plans for 2017 ?
I'd like to grow my business next year, my plan is to take on another full time developer to help with workload within the next 3 months and allow me to focus a little more of my time on marketing and new business development.  At the moment that side of my business is being neglected because I am fully booked at present.
Q: Lastly, If you had one piece of advice for someone just starting out, what would it be?
Hands down the 1st thing you need to know specifically is who your ideal client / target market is.  So many decisions will be based on this and neglecting this important step when you start out is fatal.  I think too many people are desperate for any work when they start so they look for all sorts of clients and from anywhere – I've found that if you target a smaller subset you actually find you are more successful.  
Here's a photo of Chantal and her desk for an inspiration! 🙂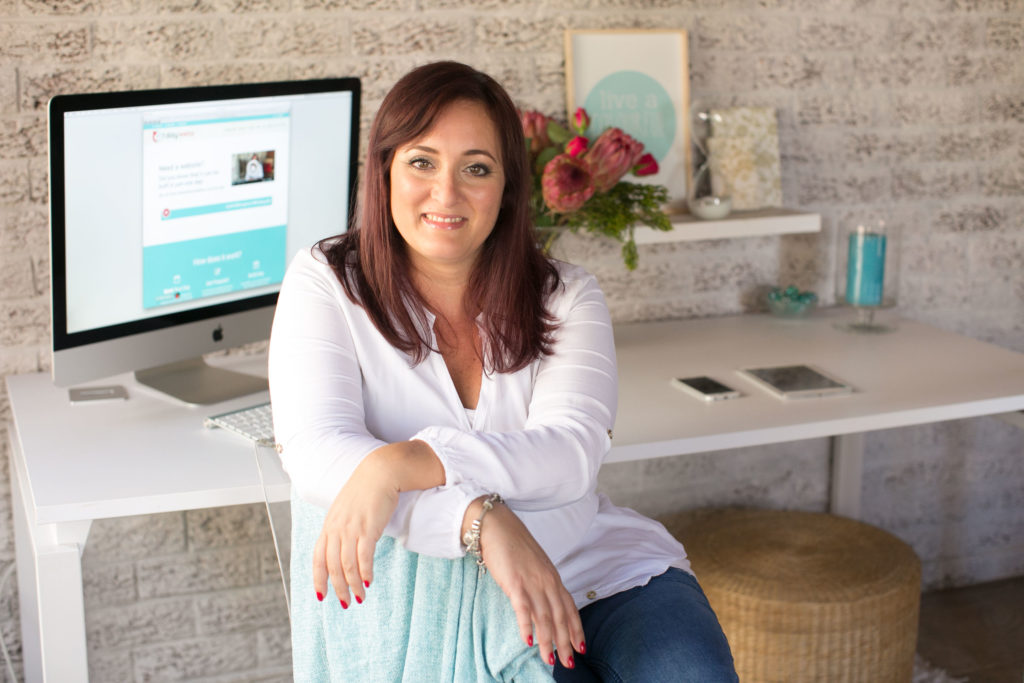 That's all for today. Do you have an interesting story to share?  Contact us to be a part of our Customer Spotlight series. Make sure to say Hello to Chantal and check out her website.
A few more interesting posts →
PowerPack Beaver Addons
Start creating beautiful websites with 65+ modules and 350+ templates for Beaver Builder.