The #1 WooCommerce Modules for Beaver Builder
The only WooCommerce Beaver Builder Modules you need for building beautiful online stores.
WooPack is a collection of the most advanced WooCommerce Modules for Beaver Builder. You can build beautiful, user-friendly online stores easily and quickly.
With Beaver Builder WooCommerce Modules, you can customize every aspect of your WooCommerce online store and build completely responsive layouts faster than ever.
Lightweight & Fast Loading
Built with performance in mind, WooPack solves your design problems without adding bloat to your WooCommerce Beaver Builder website.
WooCommerce Product Grid
Showcase Products with WooCommerce Product Grid Module
Product Grid is one of the best and most popular WooCommerce Modules for Beaver Builder. With the Product Grid Module you can create a beautiful grid layout for your WooCommerce store. The module is easy to use, offers masonry and grid layouts, comes with multiple styling options and pagination. So, you can build a custom page or showcase some products on any page. WooCoommerce Product Grid Module also offers dynamic AJAX filters. Check out the demo.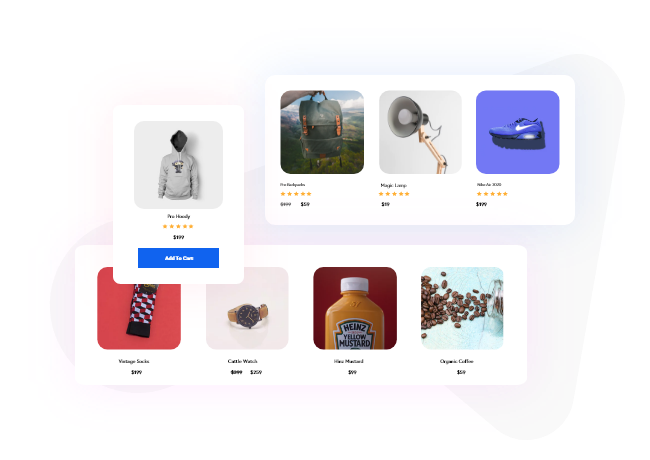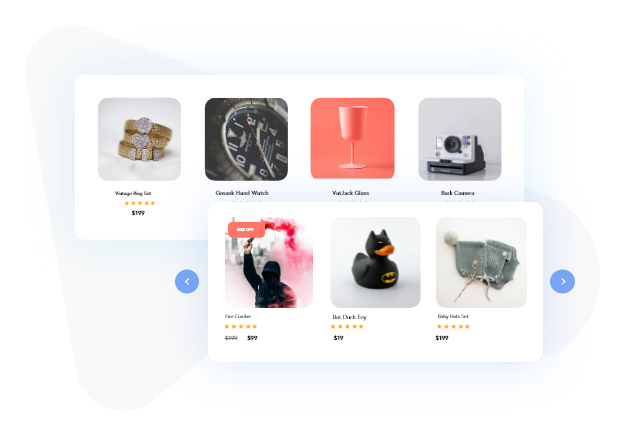 WooCommerce Product Carousel
Display a Product Slider Anywhere​
WooCommerce Product Carousel for Beaver Builder can be used to display a Product Slider on your website. This can be a good fit for showcasing popular products, latest products, offers, etc. on your online store. You can use standard query parameters to adjust the display of products. Check it out!
Showcase a Single Product
WooCommerce Single Product Module
Building a landing page or sales page? Have a special offer on a particular product? There are so many cases where we don't want to take the users to a product page but speed up the checkout process. You can use WooCommerce Single Product module to display a product anywhere on your Beaver Builder site.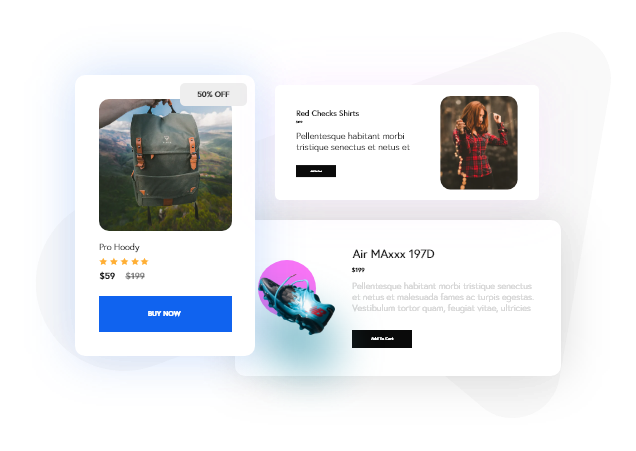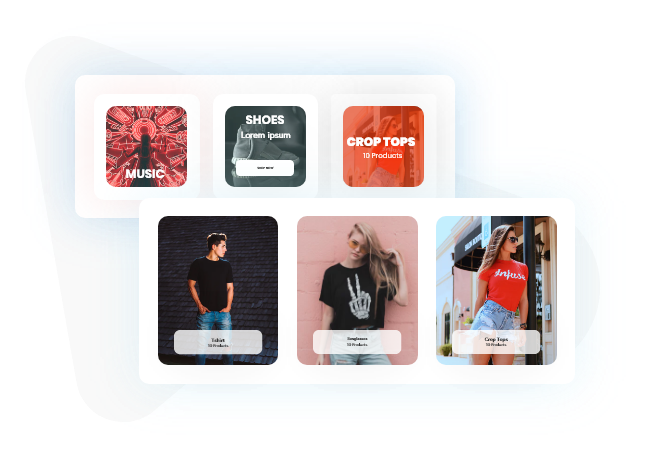 Display Product Categories
WooCommerce Product Categories Module for Beaver Builder
A lot of WooCommerce websites need to do showcase their product categories. But, there's no WooCommerce Module for Beaver Builder? No, we have built it for you. You can use the WooCommerce Product Category module to display a grid or carousel of Product Categories on your website. With its extensive styling options, you can easily customize the look and feel. You can display product count, category image, title, etc. This is a highly useful WooCommerce Beaver Builder Module if you have a wide range of products on your website. 
Add to Cart Module
Quick Purchase & Checkout for WooCommerce with Beaver Builder
With the Add to Cart module you can add an actionable button that adds the product directly into the cart. With various settings and customization options, you can style this button, and change the pre-defined quantity of products. This button provides 1-click checkout functionality and is good for use on landing pages.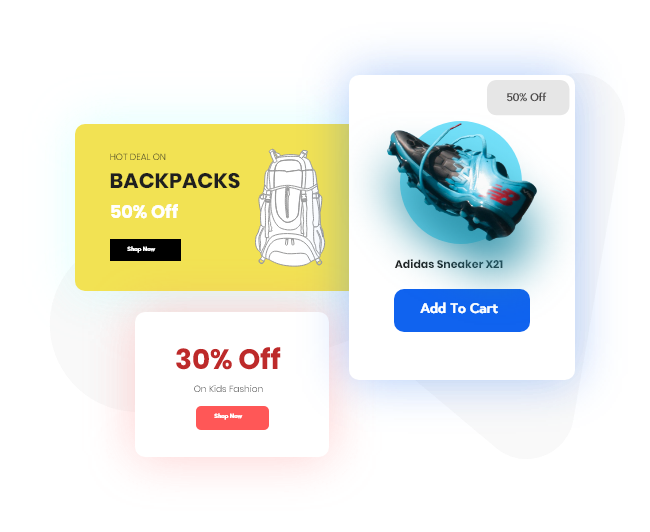 Users Love Beaver Builder WooCommerce Modules
Lee Jackson - Angled Crown

We are using PowerPack both for select client websites and our own.
David Waumsley - Power Beaver

If you bought Beaver Builder you really should take a good look at PowerPack. Their commitment to the Beaver Builder community and thoughtfulness has made it an addon that can not be ignored.
Chantal - 1 Day Webs

PowerPack is an invaluable set of tools in my development process.
Cart Styler Module
Say Good-bye to Boring WooCommerce Cart Page
WooCommerce Cart Styler Module for Beaver Builder is the easiest way to customize the styling for the cart page. The standard WooCommerce cart page comes with a table layout and updating the styles is a challenging task. The cart styler widget will save you a lot of time and effort with its options.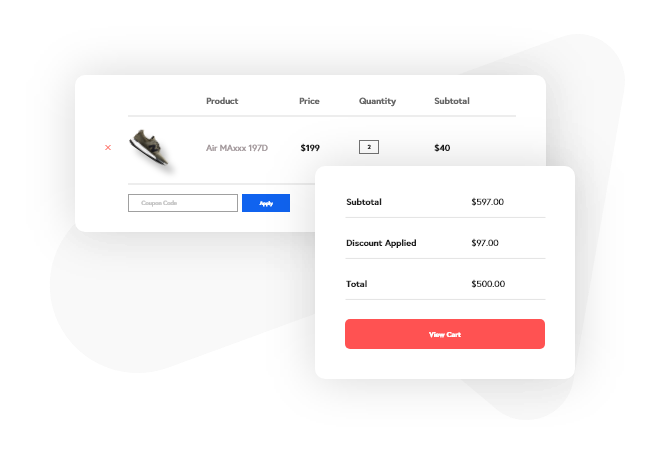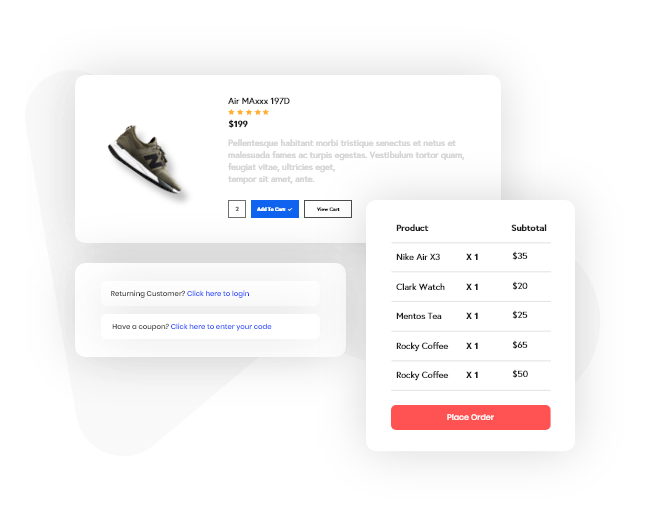 Beautiful Checkout Page
WooCommerce Checkout Page Module for Beaver Builder
Just like the WooCommerce Cart page, the Checkout page is also quite complex and difficult to style or customize. With WooCommerce Checkout Styler module you can create a one or two-column layout, style the input fields, section titles, colors, buttons, etc.
WooCommerce Mini Cart Module
Add Mini Cart Icon to Website Header
WooPack has got the best WooCommerce Beaver Builder Modules. Not just we are saying it but because you can experience it too. We have built every module with research and usability for websites. Every online store needs quick access to the cart page. So, you can use the Mini Cart Module to display a cart icon along with the quantity to your website's header or menu. Mini Cart widget can be set to display cart contents on hover or click. Improve your website's user experience with this widget.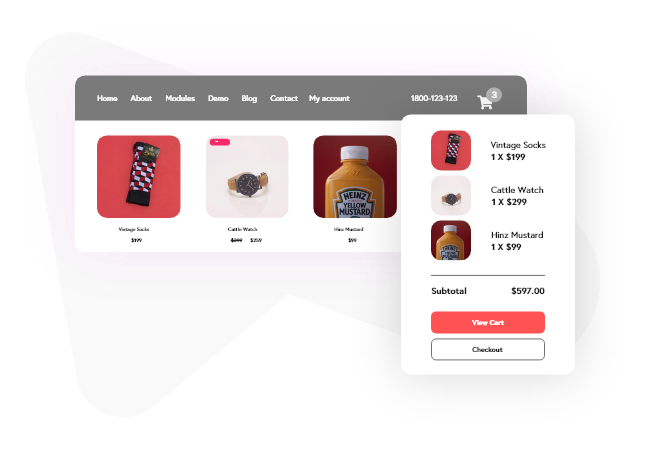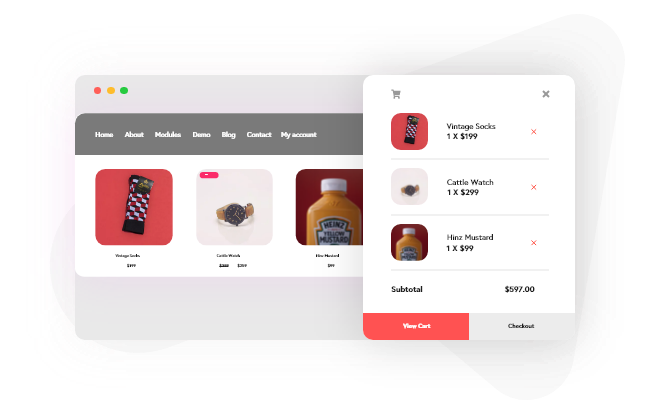 Off Canvas Cart Module
Quick Access to Cart Contents
This is another fantastic WooCommerce Module for Beaver Builder. Take user experience to the next level with WooCommerce off-canvas cart module for Beaver Builder. This module can be used to add a cart icon to your website's header. On click, the cart contents are displayed in a stylish, sleek off-canvas panel. It provides quick access to cart contents and improves the checkout process for your customers.
Frequently Asked Questions
Commonly asked questions about WooCommerce Modules for Beaver Builder.
Absolutely not! WooPack for Beaver Builder is as easy to use, as you can think of. It works just like Beaver Builder and you don't need to code.
WooPack works with Beaver Builder 2.2 and above of Lite, Standard, Pro & Agency Packages. Of course, you also need WooCommerce active on your website.
Absolutely not. We built WooPack with performance in mind. It's built to the standards of Beaver Builder and hence, no code bloat. All the required styling is compiled on the go when you use a module.
You are allowed to use this on an unlimited number of websites!
Yes. You can! You can rename it, change the developer's name to your name, update the plugin URL, hide it from plugin list with a simple settings form. You will still receive all the updates.
The standard license for WooPack is valid for 1 year's support and upgrades.
Yes! You will receive a 40% discount on renewals.
Your license will get auto-renewed. You will receive a notification before renewal. If you would like to cancel your subscription, please let us know.
Absolutely Not! You can continue to use WooPack as long as you wish to. You will not be able to upgrade the plugin or receive updates after the license expires.
We are sure that you will love WooPack. If you ever need a refund, we will gladly return your money. You can request a refund within 14 days of purchase. Please refer to our refund policy for details.
Take Complete Control of Styling WooCommerce Website.
Buy worry free with our 14-Days Money Back Guarantee.